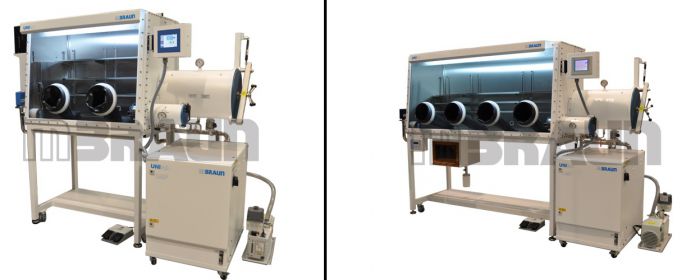 Product Code :
UNI-Lab Plus
Availability :
3-4 Months upon Order
Product Category :
Equipment / MBRAUN
Pdf : NO PDF
Product Description :
The MBRAUN UNIlab Plus glovebox workstation has been designed to meet the specification of various applications.
Compared to the LABstar workstation the UNIlab Plus provides you and your research team with added features including the UNIlab gas purification system with SP/DP configuration. A PLC-M. Braun controller* is also provided as a standard feature. Other built-in features of the UNIlab Plus Workstation include stand, integrated high vacuum feedthroughs, and a stainless steel encapsulated blower.
Features :-
Please note: Features may vary depending on country and configuration.
Stainless steel design with polycarbonate window

Closed Loop Recirculation

DN 40 KF Ports and Electrical Ports

Large antechamber with sliding tray

UNIlab inert gas purification system

PLC-M. Braun Controller

Touch screen monitor

Automatic box pressure control with foot switch

Stainless steel piping

Vacuum pump

High efficiency box filters HEPA H13

Analogue box pressure sensor

Adjustable shelving

Castors for easy mobility

Leveling feet

Stand

Light hood with anti-reflection film
For More Information Please Visit :- http://mbraun.de/products/glovebox-workstations/unilab-glovebox/