Fully Automatic Particle Size Analyzer
(Go Back)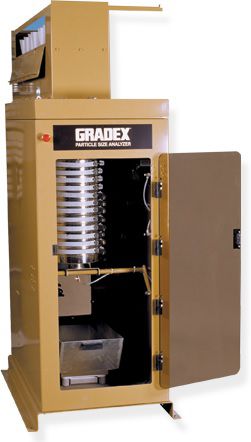 Product Code :
GRADEX 3000
Availability :
3-4 Months upon Order
Product Category :
Equipment / ROTEX
Pdf : NO PDF
Product Description :
GRADEX 3000 Particle Size Analyzers are the affordable aggregate gradation solution for reducing manual quality control costs. The GRADEX 3000 dramatically lowers the manpower costs associated with sieve analysis, reduces the chances of operator error, and allows technicians to perform other work. The GRADEX 3000 can automatically analyze up to six samples at a time.
The GRADEX 3000 is now used to automate sieve analysis and augment quality control programs in scores of applications worldwide. After more than fifteen years of in-use experience, the GRADEX 3000 has continually provided reliable performance with extremely low maintenance.
Please Click http://www.youtube.com/watch?v=gaa-edvOmRU to Watch the Working.
For more Information Please Visit :-http://www.rotex.com/gradex_3000.html