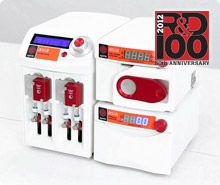 Product Code :
Available in the link provided
Availability :
3-4 Months upon Order
Product Category :
R & D / Syrris
Pdf : NO PDF
Product Description :
Asia is a revolutionary range of advanced flow chemistry products from Syrris. It has been designed by chemists for chemists to enable the widest variety of chemical reactions and ultimate ease of use. The proprietary technology allows automated experiments with or without a PC.
Asia offers maximum chemical resistance with an extensive range of temperatures, pressures, and reaction times on scales from mg to kg.
Asia is an R&D100 award winning range of flow chemistry products. The award celebrates innovative technology and is a benchmark of excellence.
Asia offers a variety of flow chemistry modules and systems making it ideal for both beginners with modest budgets and experts who demand the utmost functionality.
We have pre-configured some systems for certain types of chemistry, please click on one of the images below to find out more.
Asia 1-series flow chemistry systems are operated manually. Asia 2-series systems can automatically perform one experiment at a time and Asia 3-series are for performing process optimization.
For More Information Please Visit :- http://syrris.com/flow-products/asia-flow-chemistry