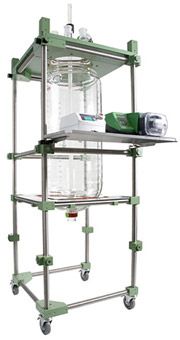 Product Code :
Available in the link provided
Availability :
3-4 Months upon Order
Product Category :
R & D / Syrris
Pdf : NO PDF
Product Description :
For jacketed reactor systems with requirements outside of the Atlas or Globe product ranges, Syrris offer Custom Reactor Systems. Ranging from 10ml to 250L, our Custom Reactor Systems are designed and built to your specifications.
We specialize in systems that require large vessels (>5L), elevated pressures (>3 bar) or high temperatures (>250°C), alongside automation and datalogging.
The Benefits of a Customized Reactor :-
Wide volume range: Reactors from 100ml to 250 litres in glass, stainless steel or Hastelloy.

Wide temperature and pressure range: Reactions can be heated to 500°C and pressurized up to 200 bar.

Safe: Warning alarms and emergency cut-off values or actions can be defined.

Control: High torque stirring including torque measurement.

Measured: Dosing of gas, liquid or powder, with fully automated or manual control.

Pressurized: Reactions such as fully controlled hydrogenations and carbonylations can be performed.

Integrated: Can provide integrated pH and liquid control.

Flexible Control: Manual or fully automated for unattended operation.

Easy to use software: "Drag and drop" icons allow recipes to be created, edited and run intuitively.

Empowering: Virtually any manufacturer's apparatus can be configured into a system using the software.

Powerful: Apparatus such as pumps and balances can be combined in an intelligent fashion (e.g. enabling gravimetric dosing or dosing to maintain a pH).

Automatic data logging: All responses such as temperature, stirrer speed, pH, mass flow, etc. can be graphically displayed in real time and are continually saved to one .csv file.
For More Information Please Visit :- http://syrris.com/batch-products/custom-reactor-systems-overview