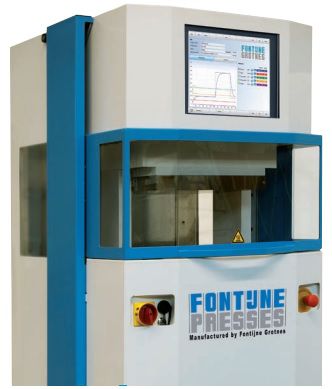 Product Code :
LAB Econ
Availability :
3-4 Months upon Order
Product Category :
Equipment / Fontijne Presses
Pdf :
Download
Product Description :
The Fontijne laboratory Platen Presses are being used in the polymer processing, rubber, and composites industry. The presses are utilized as sample preparation equipment for: Quality control, Research and Materials development.
Process pre-view
Fontijne Grotnes developed a new press control system, Lab Pro-View. One of the main improvements of this new PC control system is the new developed process pre-view. This process pre-view makes it possible to see directly what has been programmed. Not only the values (temperature, pressure etc.) but also the program commands, together with the actual press cycle predicted being shown. Continuously keeping an overview of the entire process will lead to reduced costs due to time and material savings: no trial and error. (Screen A)
Command recipe control
A distinguishing feature of Lab Pro-View is the command recipe control, based on the former PC control system, Lab2000, which customers' value positively. This feature enables an easy, user friendly way of programming for both simple and complex processes. Moreover this new PC control system will have an extended HMI and Panel PC.
For More Information Please Visit :- https://www.fontijnepresses.com/products/labecon-series/