Fully Automatic Particle Size Analyzer
(Go Back)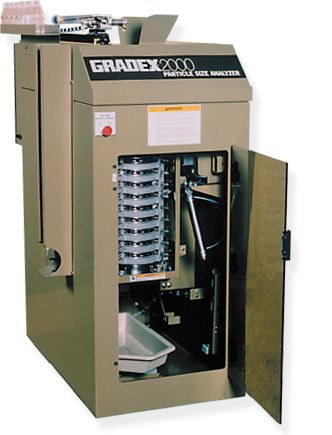 Product Code :
GRADEX 2000
Availability :
3-4 Months upon Order
Product Category :
Equipment / ROTEX
Pdf : NO PDF
Product Description :
ROTEX is a pioneer and global leader in the development of screening equipment and technologies like GRADEX 2000 & 3000 for the process industries.
Gradex 2000 particle size analyzers are pc-controlled devices that fully automate the sieve analysis process. It provides analysis and complete data printouts automatically, either in the lab or on the plant floor, making Surface Particle Cleanliness (SPC) a reality for today's quality-conscious processor. Every aspect is engineered to provide the dependability and low-maintenance operations that ROTEX customers expect.
By fully automating the entire sieve analysis process GRADEX 2000 enables the user to analyze product on a more frequent and timely basis, permitting the closer control of raw material receipts, materials in process, and finished product as well as freeing technicians to perform other work. This elimination of operator error and bias improves test accuracy and repeatability over manual methods.
Frees technicians to perform other work.

Increases testing capacity without additional manpower.

Enables testing to move to point of sample, so line operators can conduct the testing.

The ability to test more frequently decreases quantity of off-spec prod
Eliminates manual steps where errors often occur.

Improves repeatability by avoiding sieve damage due to overbrushing, because GRADEX 2000 brushes the sieves evenly and consistently.

Electronic data transfer eliminates transposition and calculation errors
Mettler Balance with capacity of 5100 grams.

Accepts any manufacturer's sieves.

Enhanced GRADEX 2000 software with customized reports and flexible reporting
For Further Information Please Visit :- http://www.rotex.com/gradex_2000.html