Semi Automatic Melt Flow Index Tester
(Go Back)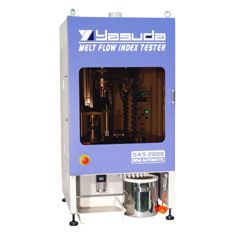 Product Code :
120 SAS 2000
Availability :
3-4 Months upon Order
Product Category :
Equipment / YASUDA SEIKI
Pdf : NO PDF
Product Description :
This tester is used to measure the melt flow index of thermo-plastic. The melt flow index is acquired from the weight or the volume of the extruded specimen at a specified cylinder temperature and with a specified load of piston through the die. The tester is assorted with an automatic cleaning system which enables to perform 1 test cycle without discontinuation (option of 3 test cycles).
Specification
Hangings

1 or 3 Hangings (2 kinds)

Die

φ2.095±0.005mm, L8.000±0.025mm

Piston

φ9.475±0.010mm, L6.35±0.10mm

Cylinder

φ9.550±0.025mm, L160mm

Temperature Range

Max.300℃ (Option : Max.400℃)

Test Load

Choose the Largest Load from 0.325, 1.20, 2.16, 3.80, 5.00, 10.00kgf, and 21.60kgf

Method

Method A : Manual (Option : Automatic)
Method B : Automatic

Specimen Feeding

Automatic

Weight Loading

Automatic

Weight Change

Manual (Option : Automatic)

Cylinder Cleaning

Automatic (Solvent Cleaning can also be Automatic)

Die Cleaning

Automatic

Piston Cleaning

Manual (Option: Automatic)

Die Cleaning Rod Cleaning

Manual (Option: Automatic)

Cleaning Gauze Feeding

Manual

Data Processing

Method A-Manual (Option: Automatic)
Method B-Automatic

Software

Suitable for WindowsXP

Accessories

Cleaning Rod (Die & Cylinder), Solvent Cleaning Device, Specimen Cup, Cup Holder, Infundibulum, Die Gauge, Spirit Level, Dust Box, Gauze, Air Gun

Option

Hastelloy Cylinder, Specimen Purging Device, Specimen Drying Device, Air Compressor, Temperature Calibration Device, Exhaust Fan (Standard for No.120-LABOT), Smoke-Detection Sensor (Standard for No.120-LABOT)

Power Source

220V 1-Phase 10A 50/60Hz

Air Source

0.5MPa or More

Dimensions/Weight

[1 Hanging] W625×D600×H1,150mm・100kg

[3 Hangings] W625×D680×H1,150mm・120kg